Our Mission
"The Mission of V&P Hydraulic Products, LLC is to be a World Class Manufacturing Leader by providing our customers with the highest quality custom-designed, welded hydraulic cylinders at the lowest possible cost".
 Company Background
V&P Hydraulic Products, LLC, is the successor company to Valves and Presses, Inc., a family-owned business founded in 1937. Re-organized on April 1, 2006, V&P manufactures custom mobile hydraulic cylinders and related products for use by manufacturers of heavy duty mobile equipment, (OE's). Our markets are anywhere heavy duty, high quality, and custom welded mobile hydraulic cylinders are required. Whether in low, medium, or high volume quantities, V&P, LLC can design and manufacture the "perfect" cylinder for your mobile application. Currently we sell to OE's in the underground mining, construction, fire, nursery, forklift, and utility truck industries.
In order to expand and improve, we have moved to a new facility in the Delaware, Ohio Industrial Park. V&P is known for superior quality in both cylinder design and construction. By utilizing our new lean manufacturing business model and access to high quality, low cost parts, V&P is quickly becoming the supplier of choice for many equipment manufacturers!
V&P Hydraulic Products Company History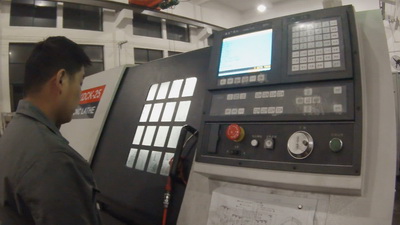 Valves & Presses was founded in 1937 by Glen Manter in Delaware Ohio. It started out literally as a one man machine shop making parts for motorized cranes. During the first 5 years, additional customers and machinists were added as needed. In 1942, big changes occurred. V&P (as it became known as) became heavily involved in the war effort, running 3 shifts a day, 7 days a week making machined parts for motorized cranes, rollers, & graders. During the war years, V&P also started making custom hydraulic cylinders for that same equipment. In 1946, after the war, Mr. Manter decided that designing and manufacturing hydraulic cylinders for mobile equipment was to be the vision for the company in the future. To this day, this remains the focus of the company serving the mining, construction, fire, and nursery industries.
Valves and Presses, Inc was family-owned & operated for its first 68 years. Then, in April, 2006, the company was re-organized as V&P Hydraulic Products, LLC. The new company is 50% owned by Valves & Presses Inc. and 50% by Propel LLC, a holding company.
Products – Introduction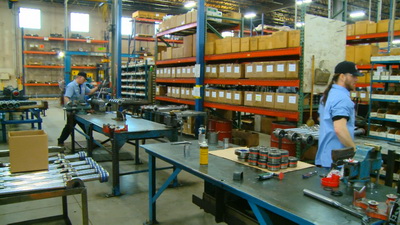 V&P LLC designs and manufactures custom welded-design mobile hydraulic cylinders. By mobile, we mean that our cylinders can be used as a component on anything that moves, whether on tracks, tires, or some other form of locomotion. As indicated earlier, these cylinders arecustom designed for use by original equipment manufacturers (OE's) and their specific application. The OE initially designs their machine and then gives us finite parameters that our cylinders are designed around – bore and rod size, closed & open lengths, mountings, etc. This is differentiated from a method where the OE finds a standard or off-the-shelf cylinder and builds their designs around what is commercially available.
Product Overview
Listed Below Is A List Of Our Current Production Capabilities:
Bore diameters from 1.250" to 10.00" (Metric equivalents are also available)
Strokes up to 20 feet (5" maximum bore for long stroke cylinders due to material handling limitations).
Operating pressures up to & including 5000 PSI.
Types – double action, single action, telescopic, rod-fed, & double rod.
Custom mounting arrangements include threaded end, mounting foot, eye, clevis, pivot, & trunnion mounts. Virtually any mounting arrangement can be accommodated.
Specialize in designs where integral load-holding valves and special testing are required.
Hard Chrome plated, nitro-carburized, and stainless steel rods are available.
Heat-treated steel, bronze, & plastic bushings are readily available.
Products – Suppliers & Inventory
Under our current business model, all new cylinders are designed and prototyped in our Lewis Center Ohio facility. Then, depending on the production order quantities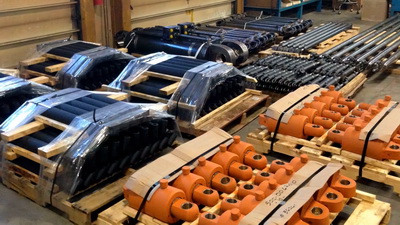 and repetition of these orders, the parts required will either be made in-house, by local suppliers, or in our facilities in China. In general, low volume, less-repetitive cylinders will be made entirely in Ohio. On the other hand – higher volume cylinders with more predictable schedules will have their parts made in China but built in Ohio. Due to the extended delivery time from China (4-6 weeks by ship), higher inventories of component parts are required. Actual inventory levels are determined by the Lean Manufacturing process.
Product Research & Development
As part of our continuous improvement initiative, V&P is constantly looking for ways to improve the quality and extend the field life of our cylinders. In order to accomplish this, we are constantly in touch with our customers in an effort to get feedback on the reliability of our cylinders. Whenever possible, we travel with our OE's to see their equipment (and our cylinders) in use in the field. We also closely monitor the fluid power industry through periodicals and by attending trade shows whenever possible.